Story By: Nicole Grant 
What is mental health? Most people have a general idea and it's a buzz topic that we can get snippets of information about, but what does mental health entail and is there a cost to archiving it? I can't promise I'll be able to answer those questions in detail at this time, but I can tell you about my journey and how fitness has shaped what mental health means to me.
You see, I was a professional dancer for over 25 years and the mental grit I had to develop and the physical hardships I endured impacted my mental health. I wouldn't say it was all negative. I had a passion, and I was lucky enough to put in the work and be able to live my dream, but it wasn't until years later, when I found balance that I realized what I was missing; by balance I mean having a healthy mind, body, and soul. Over the years, having a balance in all three is what I found equated to mental health and looking after one's self.
As a dancer, having the pressures of performing with excellence, rehearsing long hours, looking a certain way, and not weighting more than what was deemed acceptable amalgamated to creating a lot of pressure. Mental health wasn't something that was given a lot of consideration because focus was on creating art through body movement and not looking at the cost on individuals' mental health or wellbeing. Dancers who work together to create a show often became like family because there is a sense of deep understanding of pains that can't be explained.
Having been in an environment where everything was about how it looked, I knew that when I retired from dancing, I wanted everything to be about how it feels. I went searching for balance and ended up creating my own by starting a fitness business where inclusion, accessibility, and wellness get to be at the centre of all my decisions. More importantly, I want to help others find their balance and what better way than through movement. That's something I learned when dancing; if you want to balance you have to still your mind but activate your body in a way that you're trying to get taller by lifting from the top of your head, while also grounding your feet to the floor, and sending energy through all ends of your body. Funny enough, purposeful movement had a positive impact in my dancing, it helped me jump higher and turn faster, but it also played a rule in my recovery when I got injured dancing.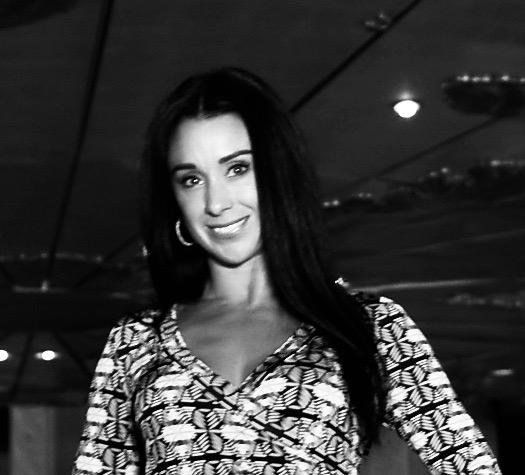 Throughout my career, I was injured a few times but was lucky enough to recover and be able to keep dancing. During my recovery I turned to yoga and Barre Fitness, which opened my eyes to a new way of caring for my body. Yoga brought solace to my soul and the one-inch, half-an-inch movements of Barre allowed my body to heal while it got stronger.
As a professional dancer I had to be fit, but today I realize that fit and healthy are two different things. Now when I talk about a FIT lifestyle, I talk about holistic wellness. Rest days are as important as active ones and doing things for yourself matter. Barre Fitness ties in well with holistic wellness as it not only facilitates body awareness, but it also develops mental grit. Two things that I have found to contribute to shaping my resilience.
For me personally, I work on my resilience each day. Some days it's a battle and I want to give up, don't we all have those days? But most of the time reminding myself why I started helps me keep going. Resilience for me has been about getting into a powerful state and setting myself up for success so to speak.
Throughout my dance career I was constantly surrounded by others, be it with dancers or spectators, which brought me lots of joy but when I stopped dancing and performing, I was faced with myself. I grew comfortable with practicing mindfulness, but knew something was missing, the interaction, the camaraderie, which had played such a big role in keeping my mental sanity during long hours of rehearsing, working shows, and being away from home. Although at first these things seemed to be something I lost when I retired, I found those same things by getting certified as a Barre instructor (I'm now a Barre Coach, certified by the American Barre Technique) and working hard to establish my own business. Starting my business, Barre Fit Warriors, gave me access to a community, one that I could contribute to shaping with likeminded individuals who also wanted to find their inner Warrior. I feel so grateful each day that I get to help others navigate being FIT and what it means for them.
I think a big part of the conversation surrounding mental health is about establishing that human connection. When I opened Barre Fit Warriors, back in October 2021, I choose to purposefully create an online community that is upholstered by its members and the support everyone shows for one another. It's a magical thing to see people coming together and to shape their experience with fitness and achieving a healthy, mind, body, and soul.
I'll outline some tips I've learned over the years—based on my personal experiences and knowledge I gained studying difference aspects of fitness—that might also help you find your balance and foster good mental health. The first tip is to get enough sleep, a healthy mind, body, and soul balance can't happen if you're over-tired. Second one is daily to do something for your mind, like reading a book or just being engaged. Also, do something for your body—that can be working out or resting. When it comes to your soul, it's about how you feel, how at peace you are; try practicing gratitude. For example, I find quotes and use those as mantras throughout the day to feel grounded. Lastly, "be where your feet are," more specifically, be present. Take time during the day to connect with others and with what you're doing; maybe that means putting down your phone or using it but not frantically looking through it. Every day I teach online fitness classes using technology, but I try to have that technology be a tool for my clients to find mindfulness rather than a distraction that prevents them from being present during their workout.
Often, it's easy to forget that we can all take a commit to start something that's good for ourselves, like working out, but what's hard is consistency, which is arguably the most important thing because without consistency we usually don't finish what we start. Consistency comes over time, after establishing habits and continuing to put in the work. Most days it's not about motivation, but about the habits that have been established. When it comes to fitness, I established consistency through community support; booking group classes and moving simultaneously with others (as much as possible) helped me to keep coming back and get into new fitness regiments. Now fitness is such a big part of my routine that even on days where I don't teach, I will do something for me, like take a yoga class, walk, do my own strength training, or take a cardio class. The passion I have for fitness and all forms of movement is what helps me motivate my clients until they form their own new habits. Part of sharing my passion and caring about what I do also means I take the time to create tools for clients to ensure they feel supported, can commit to positive change, and benefit from each of their workouts.
For me, being FIT has changed so much over the years, but today it means having a balance. That's why I focus on promoting a healthy mind, body, and soul because being FIT means having a balance of all three.
Ways to Connect with Nicole
Email: online@barrefitwarriors.com
Website: https://barrefitwarriors.ca/
Instagram: @bfw.barrefitwarriors https://www.instagram.com/bfw.barrefitwarriors/